ABOUT THE SHOW
EXPERIENCE THE THRILL OF THE GREAT OUTDOORS AT THE 2024 EDITION!
The Quebec Hunting, Fishing, and Camping Show with the Quebec Boat Show are back for March 2024! With a lineup of over 200 exhibitors and a wide range of categories, it caters to both new and passionate outdoor enthusiasts. Discover every facet of the outdoor lifestyle, from fishing & hunting to boating, off-roading, hiking, camping, tourism, and more.
Quebec's BIGGEST Outdoor, Hunting, Fishing & Camping Show – covering over 185,000 sq. ft. for the public to enjoy, includes new & visitors' favorite features aimed to provide visitors of all ages, levels, and interests, with a complete and exciting experience that will leave them returning year after year.
Under new management, we will continue to bring together the content attendees are looking for with numerous features, seminars, educational sessions and so much more!  Trade shows represent a fantastic occasion to test out new sales techniques and marketing strategies or launch a new product. Your staff will be exposed to many different prospects over a short period of time. There isn't a more effective way to build and strengthen relationships than meeting someone face-to-face.
Patrick Campeau: Official Spokesperson
Exhibit Categories
Fishing: Get hooked! Recreational and skilled anglers will be coming to the show to find the gear they need to get ready for fishing season. Surveys show that a large proportion of our attendees have an interest in fishing - this is your chance to put your product in front of an engaged audience.
Hunting: Right on Target! Visitors will be keen to start thinking about the coming hunting seasons and will be interested in the gear, firearms, archery equipment, taxidermy, guiding and outfitters – plus all the accessories to make their hunting season run smoothly. All of this and more will be at this year's show.
Camping: The Quebec Show already has a huge audience of both avid and pursuit outdoorsman and outdoorswoman. Whether the visitors are first-time campers or seasoned RV'ers, getting face to face with the latest gear and units will excite them for the spring ahead! It provides our qualified audience the chance to get ready for their camping and RV season, at what has become a must-attend event for the outdoor enthusiasts of Quebec.
Boating: The Water is Waiting! The Quebec Boat Show, collocated with The Quebec Outdoor, Hunting, Fishing & Camping Show is a premier selling venue for Quebec's recreational boating industry. With fishing as a major component of the show, boating is a natural fit to round out the marine needs for Quebecers! We bring together a variety of brands from across Quebec under one roof, for the consumers who are excited to get on the water.
Powersports: Exhibiting at the show is the best way to put your product in front of thousands of the region's top qualified buyers. The powersports presence on the show floor rounds out everything for the outdoor enthusiasts, and "wows" attendees with a variety of exciting units including ATV/UTV, power equipment, trailers and more.
EXHIBIT PACKAGE & PRICING
EXHIBIT LIKE A PRO
OUR BOOTH PACKAGE INCLUDES:
• Back & side wall drapery
• Aisle Carpeting
• Container Storage
• Discount Admission Passes
• Forklift Services to and from your booth up to 5,000 lbs* (provided that special lifting and moving equipment is not required)
PRICING
Standard Booth (100 sq. ft. - 499 sq.ft)               $14.00/sq. ft.
Deluxe Booth     (100 sq. ft. - 499 sq.ft.)               $17.00/sq.ft (includes carpet & one electrical outlet)
•Corner Booth Placement                                            $345.00
Large Booth      (500 sq. ft. – 1,499 sq. ft.)           $8.75/sq. ft.
X-Large Booth (1,500 sq. ft. or more)                  $6.45/sq. ft.
**Mandatory flooring covering is required for all booths at the expense & responsibility of the exhibitor.
For full information on the Quebec City Outdoor, Hunting, Fishing & Camping Show contact Catherine Lapointe.
For more information on the Quebec City Boat Show contact Pierre Harvey.
BOOK SPACE
Please click BOOK ONLINE to complete your space rental contract online
Otherwise, click DOWNLOAD CONTRACT to fill out the PDF contract form manually then send it to clapointe@mpltd.ca
Show Hours
Thursday, March 21st
10:00pm – 8:00pm
Friday, March 22nd
10:00am - 8:00pm
Saturday, March 23rd
9:00am - 7:00pm
Sunday, March 24th
10:00am – 5:00pm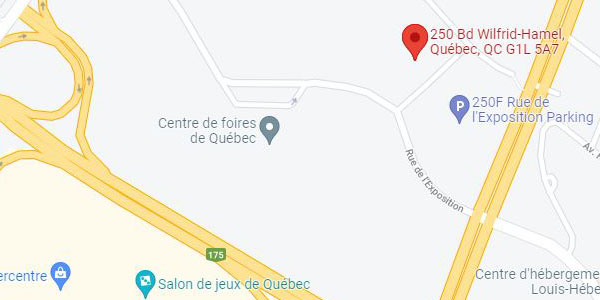 Centre de foires ExpoCité
250 boul. Wilfrid-Hamel Québec, QC G1L 5A7
1-888-866‑3976