ABOUT THE SHOW
The Quebec City Hunting, Fishing, and Camping show with the Quebec City Boat Show are finally back for March 2023! With over 200 exhibitors it truly encompasses everything for the new or keen outdoor enthusiasts! The event showcases all aspects of the outdoor lifestyle including fishing, hunting, boating, off-roading, hiking, camping, RVing, tourism, as well as organizations devoted to education, conservation, and preservation!
Quebec's BIGGEST Outdoor, Hunting, Fishing & Camping Show – covering over 185,000 sq. ft. for the public to enjoy including new & visitor favorite features aimed to provide all visitors, of all ages, levels and interests, with a complete, exciting and they will want to repeat year after year.
---
Dear Outdoor Enthusiasts,
I am proud, honoured and delighted to be back as spokesperson for the Quebec City Outdoor, Hunting, Fishing & Camping Show. The love story and partnership with the event has lasted for more than 30 years and it is with continued enthusiasm and pleasure that I invite you to this symbolic event. After a one-year hiatus, the long-awaited gathering for fishing, hunting and nature enthusiasts is back at the Center de Foires in Quebec! It will be my pleasure to see you again and discuss our common passions! Do not miss my seminars on the main stage as well as all those enthusiastic outdoor specialists who will be presenting throughout the weekend!
Patrick Campeau
Ticket Prices
$16 Adult (18 to 64 years)
$13 Senior (65+)
$13 Student (12 to 17 years)
$35 Family Pass (2 Adults + 2 Students)
Date, Time & Location
Thursday, March 16
12:00pm – 9:00pm
Friday, March 17
11:00am - 9:00pm
Saturday, March 18
10:00am - 7:00pm
Sunday, March 19
10:00am – 5:00pm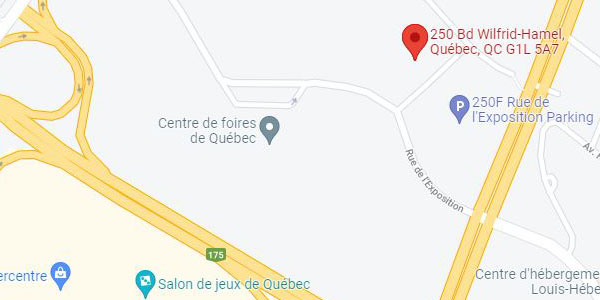 Centre de foires ExpoCité
250 boul. Wilfrid-Hamel Québec, QC G1L 5A7
1-888-866‑3976
Exhibitor List
100% Chasse Et Peche
40Celcius
65E Groupe Scout La Nativite De Beauport
Academie De Securite Nautique
Academie Milot Land
Accueil Et Visite/Hydro Quebec
Adrenaline Sports
Aerosport OKA
Airablo Technologies Inc
Alpagaselect
Amma Marine Inc
Andre Morinville (Fa-Products) Super Dips
Antler Firearms
Association Des  Conducteurs De Chiens De sang
Association des Pêcheurs Sportifs du Qc APSQ
Association Des Sauvaginiers
Atelier Sucoiseau
Auberge Eva- Resto Pub Saint-Patric
Aventure Nature Okane
Aventures Express
Bateaux Legend
Bateaux Princecraft
Batteries Expert Beauport
Beauce Marine
Big Bass Quebec
Bijou Magnetique Sante
Binette Marine
Boite de Fibre
Boulard Distribution Inc/Shor Fishing
Buck Hunter
Cabano Marine / BL Yacht
Camping Aztec
Canadian Coalition For Firearm Rights
Candock
Canots Legare
Capsize Flyfishing
Cardio Choc
Casse-croute Marc-Andre
Casting Club De Quebec
Cegep de Baie Comeau
Centre Agricole Nicolet-Yamaska
Centre Lavertu Honda
Chassomaniak
Chenil Du Chasseur
Clinique Multisante Dr. Vincent Robert C
Cloutier Sports
Club Des Amateurs De Teckels Du Canada
Club Des Trois Castors Inc
Conseil Economique Et Cooperatif
Cosmatik POULE DES BOIS
Cosmitty
Courroies Elite
Cree Nation of Mistissini
Dany Savard-Lunettes De Peche Polarisees
Decathlon Sainte-Foy
Destination Haute-Mer
Distribution BMD Kayaks
Domaine Du Canyon (2010) Inc.
Domaine Kildare
Doyon Despres
Echo Power Equipment
Ecole De Foresterie De Duchesnay
ECOTONE Beaupré
Equipements Paquet
Eric Simard
ewool
FedeCP (Federation des chasseurs et pêcheurs)
Federation des Pourvoiries du QC
Federation Des Trappeurs Gestionnaires
Fish & fils Martin Bibaud
Fishing Butler
Fishunter Jay's
Flash ton panache
Fondation Maurice Tanguay
Fondation Mira
Francois Boulet, Guide / Instructeur
Garde Côtière Auxiliaire Canadienne
Garde Cotiere Canadienne
Gendarmerie Royale Du Canada
Gestion Rac Inc
GR Suspension
Grand Safari Canada Africa
Green Point Oufitters
Groupe Les Productions Road Fish
HabitatPOD
Hd Sante Auditive
Helico Secours Cooperative De Solidarite
Heloise Laboratoire Citrobug
Import Export Fourrures
Importation Yma Inc. (Tente Top)
Jlc Geomatique Inc
Kymco Canada Distribution Phr Inc
La Peche Au Feminin
La Pourvoirie Du Lac Laflamme Inc.
La Vallee Bleue
Le Domaine Oregnac Inc
Leclerc Assurances Et Services Financiers
Les Accessoires Spyder
Les Cannes Boreal
Les Huiles Saveurs Et Assaisonnements
Les Productions Sg  La pêche dans la peau
Les Produits De Peche Bm
Les Produits Extremes CG et Bêtes de chasse
Les Quais Bertrand
Lexi Chalet Modulaire
Long Range Hunter
Lussier
Maniac Branché
Maniaque De Prospection
Marina Lennox
Meunerie Gerard Soucy Inc
Michel Therrien Chasse Québec
Ministere De La Securite Publique
Ministere De L'Environnement, de la Faune, des Parcs
Mitch Jerky
Moto Rive Sud
Mti Canada Inc.
Natural Born Hunter Inc
Nautisme Quebec
O.F. Mossberg & Sons Inc
Orientation Azimut
Ouje Bougoumou Cree Nation Broadback Fishing Camp
Parc Regional De La Riviere-Gentilly
Performance Voyer (Armada)
Philcomm
Pod-O-Logic Inc
Pomponnetfurs.Com
Portable Winch Co.
Pourvoire Pelchat
Pourvoirie Achimac Enr.
Pourvoirie Aventures Nipissi
Pourvoirie Camp Cooper
Pourvoirie Chalets Baie Du Sud
Pourvoirie Club Bataram
Pourvoirie Club Colonial
Pourvoirie De La Dore
Pourvoirie De La Truite Rouge
Pourvoirie Des Bouleaux Blancs
Pourvoirie Des Lacs Roger Et Faucille
Pourvoirie du Club Kergus
Pourvoirie Du Deziel
Pourvoirie Du Lac Oscar
Pourvoirie Essipit
Pourvoirie Grand Lac Du Nord
Pourvoirie Homamo
Pourvoirie Lac Dumoulin
Pourvoirie Monts-Valins
Pourvoirie Musquanousse
Pourvoirie Nemiskau
Pourvoirie Poulin De Courval
Pourvoirie Seigneurie Olaf
Pourvoiries Clauparo Monts-Valin, Québec Nature & Lac des Baies
Premium Marine Canada
Produits Cocall Inc.
Pro-Snack Inc.
Proxpedition
Radical Shop
Redtail Labradors Martin Blais
Reel Trip Sabrina Barnes
Reserve Faunique Duchenier - Terfa
Reserve Navale
RF Entreprise Coctail Bombs
SA Service Agricole
Saaq
Salmon Lures
Saucisse Kevy
Sauvagine Mlh Waterfowl
Scène de conférence Bassin Patrick Campeau
Sentier Chasse et pêche
Sepaq
Service Ams
Service De Guide Spl
Service Du Controle Des Armes A Feu/Sureté du QC
Skyfall Decoys
Solem
Soluquai
Solution Ideale
Speyrit et Pêche en herbe
Sportchief
Sportmarine.Ca
Surete Du Quebec
Suzuki Canada Inc.
Target Baits Leurres
Tced Intl Inc (Batteries Expert)
The Last Ride
Thema Canada Pour La Chaine Saisons
Tir à l'arc Québec
Traktiq
Transport Canada
Tupperware
Umatek
Vallhalarc
Vêtements Orizon
Vieux Port Yachting
Ville De La Tuque
Voltigeurs De Quebec
Vos Origines
VR Boudreault et Theetge Chevrolet
VR Evolution
VR Maguire
VR Soulière
Wildom Gaspesie Backcountry
Yacht Club de Trois-Rivieres
Zale Outdoors
ZEC Association Chasse Et Peche De Forestville
Zec Association Sportive Onatchiway Est Inc
Zec Batiscan Neilson
Zec Des Martres
Zec Federation Reseau Zec
Image Gallery